Track file access and monitor file copy operations on local and shared files, in real-time, with unrivaled accuracy! Our unique file monitoring technology goes beyond basic audit operations, like read, write, and attribute changed. It can record and deliver the entire context around complex activities like file copy (locally, over the network or on USB devices), file archived, file uploaded through browsers or attached to emails. Monitoring shares is now easier, and you can get a much better picture of what happens with your critical files.
The product can be configured in various ways to help you extract the information you need. For example, out of the box, you can easily monitor:
Files attached to emails (outlook or web email clients)
Files copied to removable devices, like usb sticks
Files uploaded to services like Google Drive, Onedrive, Dropbox, Box, Wetransfer
Documents accessed outside work hours
Files transferred using messenger services like skype, slack, facebook
Programs that started from removable devices
Downloaded files
Document archiving operations (e.G. Files added to zip archive)
Files involved in transfers to/from remote machines
Operations on video or torrent files
---
Advanced Dashboard Technology
The most critical file activity is available at a glance! You can easily extract and keep an eye on the essential data through a versatile dashboard technology. You can create multiple dashboards with various items like graphs, heat maps, filters, grids, gauges, and others.
---
Alerting on important events
The real-time monitoring features of TEMASOFT FileMonitor can alert you as soon as a critical event occurs. When an event triggers an alerting rule, an email is sent to the designated recipients. You can fully customize the information included in an alert by creating or editing alerting templates.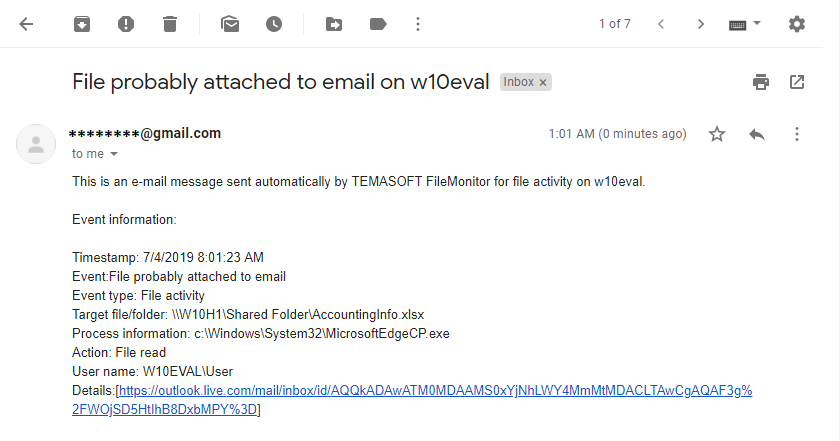 ---
File Activity Analyzer
The built-in data viewer, through its powerful filtering capabilities, is an invaluable tool for investigating suspicious activities or security incidents. You can easily filter on various event fields and analyze the results by looking at relevant event fields like action, details, or tag, to understand what happened with your files with high accuracy.

---
Flexible Reporting
TEMASOFT FileMonitor includes a powerful reporting engine which allows you to create various types of reports. The product offers by default more than 100 reports which capture the essential file activity. Reports can be generated on demand or can be scheduled to be sent by email or saved to disk.