Identity Security Platform
Secure identities – human and machine – from end-to-end
---
Defend Against Attacks
Protect against compromised identities and credentials
Satisfy Audit & Compliance
Protect against compromised identities and credentials
Enable the Digital Business
Protect against compromised identities and credentials
Drive Operational Efficiencies
Protect against compromised identities and credentials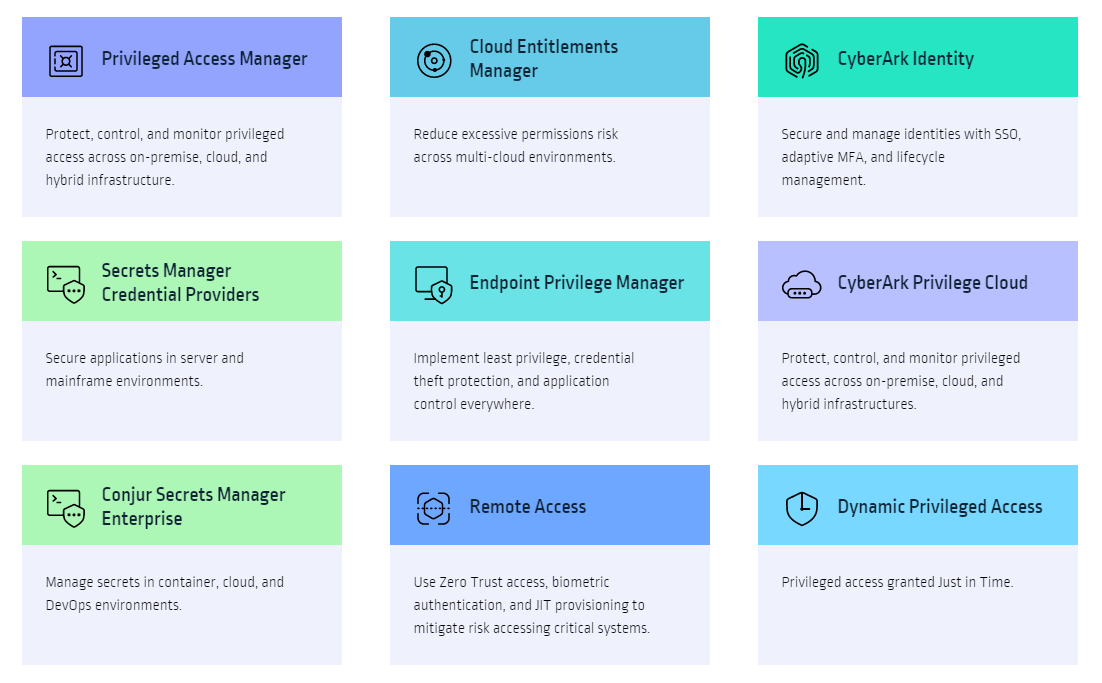 Privilege
Enforce Least Privilege
Apply least privilege security controls. Protect privileged access across all identities, infrastructure and apps, from the endpoint to the cloud.
Defend Against Attacks
Protect against the leading cause of breaches — compromised identities and credentials.
Enable the Digital Business
Deliver digital experiences that balance security and a frictionless experience.
Satisfy Audit and Compliance
A unified solution to address identity-oriented audit and compliance requirements.
Access Management
Enable access across any device, anywhere just the right time
Secure Everywhere
When everything is transforming digitally – from your industry to the threats you face – you need Identity Access Management (IAM) solutions designed to outpace any security risks that challenge your ability to compete.
Let Users In, Keep Threats Out
Consolidate key security technologies and simplify policy enforcement.
Secure Digital Confidence
Improve business agility to deliver great digital experience.
Protect Your Core
A privilege-centric approach to securing identities.
Support Remote
Give your distributed workforce the tools they need – without compromising security.
DevSecOps
Simplified the process of securing non-human identities across DevOps pipelines
Security at The Speed Of Innovation
Application code within the digital supply chain are an increasing target for sophisticated cyber attacks. With CyberArk, you can help ensure security across the DevOps pipeline while driving business agility and a frictionless experience for developers.
Enable the Digital Business
Keep application and automation tools secure without slowing down developer velocity.
Defend Against Attacks
Give applications easy access to the credentials they need, while keeping secrets out of reach for attackers.
Drive Operational Efficiencies
Reduce complexity and burden on developers while improving agility and protection of the business.